Derby City Gaming held a ribbon-cutting for its new hotel and expanded facility on Poplar Level Road on Thursday afternoon.
The five-story hotel was part of a $76 million, 135,000-square-foot property expansion. New amenities in the project included new historical racing machines (HRMs), a VIP gaming area, upscale-casual dining, a sports bar with a live entertainment stage and the adjoining 123-room hotel.
HRMs are similar to slot machines, though they're technically based on historical racing results.
Derby City Gaming is owned by Churchill Downs Inc. (NASDAQ: CHDN). This project was announced in July 2021, with construction commencing in 2022. At the time, the company said it expected to create about 60 new permanent jobs at the facility.
"Derby City Gaming continues to exceed the company's expectations," Bill Carstanjen, CEO of CDI, said when the project was announced. "The expansion of this premier gaming property is intended to create an elevated experience for our guests that is inclusive of all their hospitality needs and is anticipated to fuel ongoing growth in purse contributions for Churchill Downs Racetrack."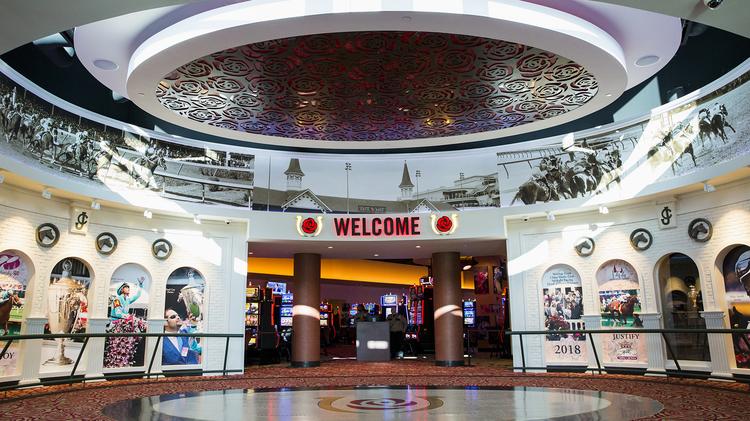 Several officials, including Louisville Mayor Craig Greenberg and state Sen. Robert Stivers attended a ribbon cutting for the new hotel.
This is one of two projects for the Derby City Gaming brand in the area.
Work is ongoing on Derby City Gaming's new Downtown facility. That 43,000-square-foot entertainment venue will be located at 140 S. Fourth St., in the former U.S. Bank location at the corner of South Fourth and West Market, diagonal to the Kentucky International Convention Center and is expected to open later this year.
The $90M project will initially include 500 historical racing machines, a fresh-air gaming area and over 200 onsite parking spaces.
---