Reporter , Louisville Business First
 Updated 
The Louisville Urban League has gained a new corporate partner for its more than $40 million sports facility in West Louisville.
Thorntons will have an exterior-facing convenience store located inside the 24-acre Norton Healthcare Sports & Learning Center development at 3029 W. Muhammad Ali Blvd.
Simon Richards, president and CEO of Thorntons, said during a news conference on Wednesday morning that the convenience store will be open seven days a week starting in early 2021. Profits from the store will be completely reinvested into the Louisville Urban League's programs to promote equity and empowerment once the store opens.
Richards declined to disclose the amount Thorntons will invest in the new location, but he did say the store would serve as a training site to recruit community members for jobs with the company and the store would work to highlight products from local Black-owned businesses.
"We are thrilled to be involved with this project. We're looking forward to getting this store built out, and there's lots of opportunities this brings for everyone in the community," Richards said during the conference. "We are passionate about developing people, we are passionate about diversity, equity and inclusion in our business. We promised over the summer we would be better, and this is the first step on our way."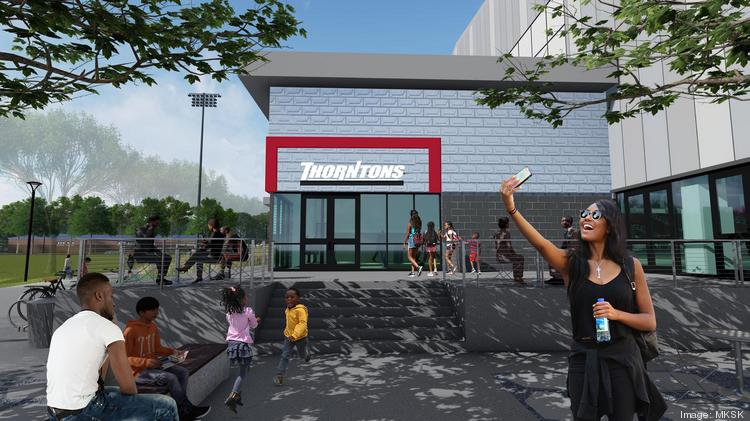 "For the past several months we've been working on a deal to bring a convenience store into the Norton Healthcare Sports & Learning Center and we have done it," Reynolds said during the press conference. "It is wonderful that we will have this amenity open seven days a week. It's so important for us to ensure Black businesses, and our entire community, benefits from this project."
Reynolds said the center was mostly on track for completion in 2021 but the facility may open a bit later due to the pandemic.
The project, which broke ground in August 2019, looks to be a world-class athletic facility in the heart of Louisville's West End. It will provide an indoor/outdoor track and field venue to host national conference events, serve as a concert venue, community green space and educational facility.
The center will also provide additional space for the Louisville Urban League's programming and offers the opportunity for future retail, mixed-use and hotel development opportunities.
---