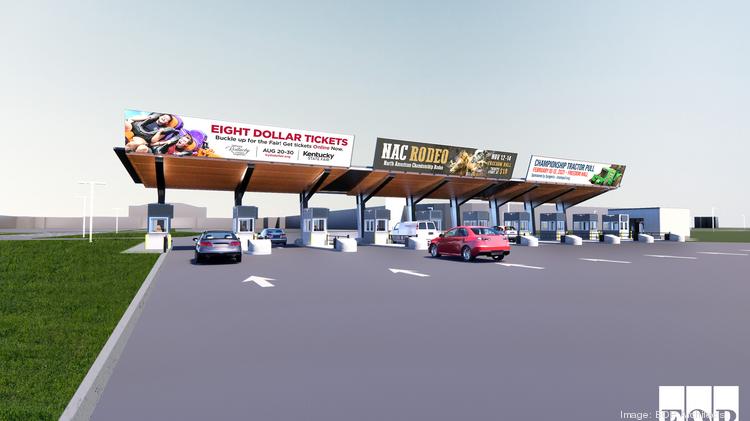 A project that has been years in the making for the Kentucky Exposition Center has finally broken ground.
Kentucky Venues, the state agency that manages the Kentucky Expo Center, said Thursday that it has started a project to renovate and expand the size of the Expo Center's Gate one main entrance off Interstate 65 and Phillips Lane in Louisville.
The project will expand the entrance from eight to ten lanes, increasing vehicle capacity by a minimum of 25 percent, according to the agency. Work recently started and is slated to finish by late July.
On top of being larger, the new gate one entrance will be modernized through enhanced wayfinding signage that will guide visitors to their events and new technology that will allow guests to use multiple payment options for entry.
"Gate one is the Kentucky Exposition Center's front door. Expanding and improving our primary entrance will improve the customer experience from the moment they visit our property," Beck said. "We want to thank the Kentucky General Assembly and the Agriculture Development Board for their support and recognizing the importance of this facility to the Commonwealth."
EOP Architects, which has offices in Lexington and Louisville, is handling the new entrance design, and Louisville-based Calhoun Construction Services Inc. is the general contractor. The project is allowed to continue through the coronavirus outbreak so long as workers follow Centers for Disease Control and Prevention guidelines on social distancing, Beck said.
"We are in full compliance and monitoring that moving forward."
Beck said the gates are more than 50 years old and this project will set the template for future gate renovations. He said the next gate project will likely be gate 6 on the east side of the property, but there is no timeline for that work.
"The (ultimate) goal would be to have consistent-looking gates all the way around," Beck said.
The main entrance is closed during the renovations, so Expo Center guests will need to use gates two, four and six during normal operating hours. Kentucky Venues has seen its events at the Expo Center and the Kentucky International Convention Center in downtown Louisville canceled or postponed during the coronavirus outbreak.
Kentucky Venues launchd the new gate project after conducting a six-month traffic study during the busiest months of the year for its operations. That time period included the Kentucky State Fair.
---