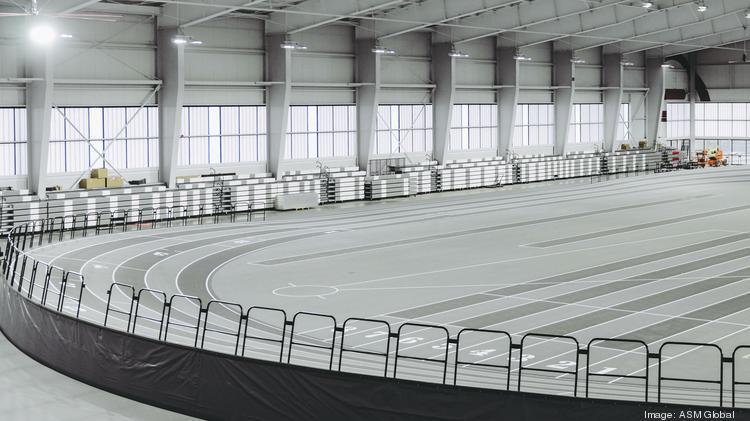 The moment is finally here.
The $53 million Norton Healthcare Sports and Learning Center, located on 24 acres at 30th Street and West Muhammad Ali Boulevard in Russell, is now open for events. The University of Louisville is hosting the new venue's first indoor track meet, the Lenny Lyles Cardinal Invitational, Wednesday.
A ribbon cutting was slated for Monday, Feb. 15, but this week's winter storm forced its postponement. However, the Louisville Urban League and facility manager ASM Global opened the space for media tours Tuesday. You can see images inside the complex in the attached gallery.
The multi-sport complex is designed to host a spate of local, regional and national track meets in combination with other sporting events, concerts, educational experiences and other programming.
The complex is equipped with 90,000 square feet of floor space; a 4,000-seat, 200-meter banked indoor track; and competition areas for jumping, vaulting and throws. The indoor track also boasts a Mondo hydraulic floor that can be raised and lowered, which allows for the addition of a stage and floor seating for concerts and other events.
Other features inside the complex include a four-lane mini-bowling alley, an interactive rock-climbing wall and a multipurpose space for educational programming. An outdoor track also will open later this year, and the complex boasts space and art celebrating Black leaders and artists.
The Urban League raised $43 million toward the development over a 22-month period in the form of philanthropic gifts, corporate sponsorships and tax credits. That included $10 million from Louisville Metro Government, $6.5 million from Humana Inc. and $5 million from Norton Healthcare Inc. among others. Norton Healthcare also signed on as the naming rights partner.
The Louisville Sports Commission and ASM Global have partnered to secure events for the new complex and expects growing demand for entertainment and educational opportunities. The facility is also expected to be a regional draw that will increase local hotel stays and visitor spending.
"Seeing the collective vision of the Louisville Urban League and many others come to life as the finishing touches have been added to the Norton Healthcare Sports & Learning Center has been both empowering and rewarding for our team and our community," ASM Global Louisville General Manager Eric Granger said in a statement.
"The construction teams, ASM Global and Louisville Urban League staff and the track and field community have united on this project to create a venue we are all very proud of. We are very pleased to have this diverse and multi-functioning facility that includes one of the fastest indoor tracks in the world and ample space for hosting other events."
---