By David A. Mann
– Reporter, Louisville Business First
Jul 3, 2018, 2:46pm EDT
Updated Jul 3, 2018, 4:54pm
Independence Bank is taking shape in St. Matthews.
Earlier today, crews installed a clock tower cupola atop the building, which is under construction near the intersection of Shelbyville and Westport Roads, as you can see in the photos.
In case you haven't noticed, the building is designed to replicate Independence Hall in Philadelphia. And the clock tower was put on just in time for Independence Day. (Yes, they planned that.) The structure weighs 16,225 pounds. It was fabricated by Campbellsville Industries, "the steeple people," which is based in Campbellsville, Ky. According to a news release, it took more than 1,600 working hours to fabricate. It features a 7-foot diameter clock, created by Owensboro Concept Designs.
Independence Bank is based in Owensboro and is new to the Louisville market. It has built a signature location like this one in 12 Kentucky cities where it has established offices, including Paducah, Frankfort, Mayfield, Madisonville, Murray and in its hometown.
A clock tower cupola was installed by construction crews at the Independence Bank construction site in St. Matthews.
These signature locations have a double meaning, Chris Reid, chairman, president and CEO of Independence Bank, told me in an interview today.
They're an obvious reference to Independence Hall, where the Declaration of Independence was signed on July 4, 1776. But they're also a nod to banking independence, he said, as the company champions locally made loan decisions.
"It's a symbol to our community, to our employers and our shareholders," he said. "We want to be that independent bank that's there to serve their community."
The special structure instills a sense of trust when people see it, added Jacob Reid, executive vice president of operations for Independence Bank and Chris Reid's son.
The St. Matthews location is far from complete. I toured the site yesterday and saw how some of the rooms and features in the 8,500-square-foot building were starting to come together. But it's still very much a construction site.
Louis Straub, president for the Louisville market, told me the office is expected to be finished by Nov. 1. It's been under construction since November 2017. The project is being led by general contractor Calhoun Construction Services.
Gross Diamond Co. and St. Matthews Hardware previously were at this site. Independence Bank officials dubbed it the 'Times Square of St. Matthews' when the project was announced in 2016. The project is about a $10 million investment for the company. For now, Independence Bank is operating from a temporary headquarters at 2120 High Wickham Place, near Old Henry Road.
---
Work begins on multimillion-dollar St. Matthews project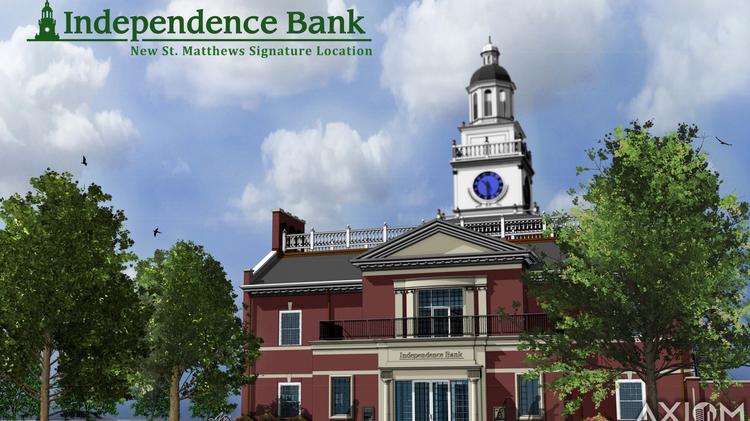 Owensboro-based Independence Bank of Kentucky wants to replicate Independence Hall, a Philadelphia landmark, with a major project in St. Matthews.
Owensboro-based Independence Bank of Kentucky wants to replicate Independence Hall, a Philadelphia landmark, with a major project in St. Matthews.
This is a project we first reported on last year, but work on the site, at the corner of Shelbyville and Westport roads, started today. This is where Gross Diamond Co. and St. Matthews Hardware had previously been located, though the site is now clear. Independence now owns the land.
It's an approximately $10 million project that will give the bank a permanent location in Louisville. Independence currently has one location in Louisville, on 2120 High Wickham Place near Old Henry Road, which this building will replace.
"This project will stimulate growth during the construction phase as well as after completion," Louis R. Straub II, the bank's president for the Louisville market, said in a news release. "The new Independence Bank location will be called 'St. Matthews Square' not only because it's physically located in St. Matthews, but also in honor of St. Matthew, the patron saint of bankers."
The future bank site also has a deeper connection for Straub, according to the release. His great-uncle, Karl Straub, served as president of St. Matthews National Bank, which later merged with First National Bank of Louisville in 1954 and was located on the site where the new location will be built.
Calhoun Construction Service Inc. of Louisville will build the new office, using local subcontractors. Construction is slated to begin in early December with an estimated 12- to 18-month construction timeline. Owensboro-based Axiom Architecture is providing architectural service on this project.
Independence Bank has nine employees in Louisville. Since joining in April of this year, Straub has focused on growing that team and assembling a board of directors to provide a new direction and vision to the market, according to the release.
"By utilizing local talent and board representation, the direction is focused on the community we love and live in," Straub said in the release.
Independence Bank is a regional community Bank with 24 locations in Bowling Green, Frankfort, Hawesville, Henderson, Lewisport, Louisville, Madisonville, Mayfield, Murray, Owensboro, Paducah, Providence and Sebree, with assets over $2.1 billion.
---