By Brent Schanding  – Associate editor, Louisville Business First
Construction companies, contractors and other real estate-related businesses lead the fastest-growing companies in the area this year.
Louisville Business First is unveiling its 2018 Fast 50 — an annual list that ranks companies in the Louisville area by revenue growth. Construction projects have largely fueled our local economy in the last few years. The top company on our 2018 Fast 50, Freedom Property Group LLC, grew its revenue by an impressive 433 percent in the last three years, while a number of others on our list also posted triple-digit revenue gains over that time.
Those companies are ranked and featured in this gallery.
So how does a business make the cut?
First, Fast 50 companies must be independent, for-profit and privately held.
They must be headquartered in Jefferson, Bullitt, Henry, Meade, Nelson, Oldham, Shelby, Spencer or Trimble counties in Kentucky or Clark, Floyd, Harrison or Washington counties in Indiana.
They also release to us a three-year operating sales history and must have brought in an average of at least $1 million in revenue over the past three fiscal years.
Data Editor Allison Stines analyzes revenue reports submitted by entrants and calculates the three-year cumulative revenue percentage growth. The 50 companies with the biggest percentage gains make our list.
We've also noted winners in five revenue categories. The breakdowns can be found in this chart.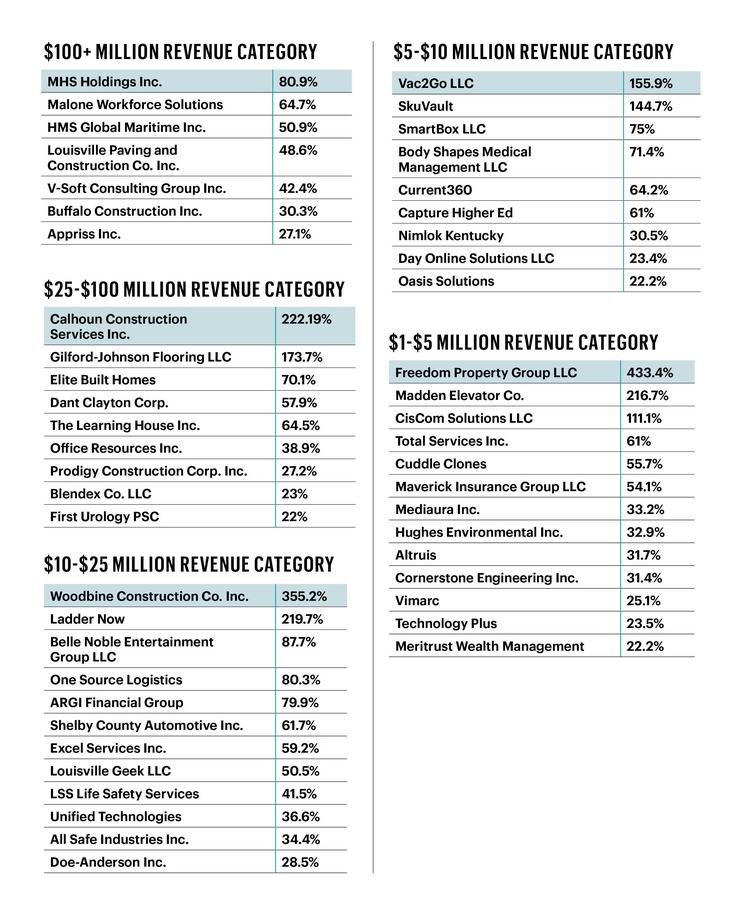 You can read stories about each category winner by clicking on the links in our Fast 50 gallery. We also celebrated them today with a luncheon at the Kentucky International Convention Center. Check back for photos from the event.
---
Here's who we snapped at this year's Best Places to Work in Greater Louisville event (PHOTOS)
Aug 3, 2017, 1:22pm EDT
Louisville Business First honored 25 companies and nonprofits at The Olmsted this morning for our third-annual Best Places to Work in Greater Louisville awards.
The awards recognize local employers who ranked highest on an independent survey distributed by Omaha, Neb.-based Quantum Workplace. The survey asked employees about their office culture and work-life balance. Those answers helped us pinpoint places that offer extraordinary employee-friendly policies, programs and perks.
(If our boss is reading this, we'll settle for any of those perks.)
Congratulations to all of this year's Best Places to Work honorees for creating a better company culture. They know that employee happiness directly affects the company's bottom line.
Brent Schanding manages the special publications and labeled content.
---