Louisville Urban League President and CEO Sadiqa Reynolds' vision of an innovative sports complex turned economic catalyst in the city's West End is now a reality in Russell, but the journey to completion was anything but easy.
Despite myriad obstacles, the project's design and construction team view the facility as a lifetime achievement that brings something transformational to a challenged and underutilized corner of Louisville. And its future economic potential should only climb as the city and nation starts to move out of the Covid-19 pandemic.
"I think we overbuilt. I think we built something better than we promised," Reynolds said during a recent interview. "It might be the first project (in the West End) to bring more than was expected. The donors who have invested have said, 'Oh, I now understand.'"
The Urban League unveiled the $53 million Norton Healthcare Sports and Learning Center in February on 24 acres at 30th Street and West Muhammad Ali Boulevard in Russell.
The multisport complex has a capacity of more than 5,100 people and is designed to host local, regional and national track meets in combination with additional sporting events, concerts, educational experiences and other programming.
It has 90,000 square feet of floor space; a 4,000-seat, 200-meter banked indoor track; and competition areas for jumping, vaulting and throws.
The indoor track also boasts a Mondo hydraulic floor that can be raised and lowered, which allows for the addition of a stage and floor seating for concerts and other events.
Other features inside the complex include a four-lane mini-bowling alley, an interactive rock-climbing wall and a multipurpose space for educational programming. The arrival of the indoor complex was followed in June by a ribbon cutting for the Humana Outdoor Track & Field on the complex's campus.
Residents are encouraged to utilize the outdoor track for everything from competitive running and leisure walking to field sports.
"The mission of our company has taken on particular significance in our hometown of Louisville, especially in West Louisville, where 1,200 of our teammates live," Alan Wheatley, president of Humana Inc.'s Retail Segment, said about the outdoor track. "The Humana Outdoor Track and Field, and the entire Sports and Learning campus, is an innovative development that will make a lasting impact for generations to come."
The infield of the 400-meter outdoor track offers dedicated areas for jumps, vaults, throws and steeplechase with seating for 500 spectators. It also will host track meets.
"As I traveled around the country visiting other facilities, it was clear to me that this outdoor track and field simply had to be included in our project. We always want this campus to be accessible to the community, and this outdoor track creates another significant way for that to happen," Reynolds said.
You can see dozens of images from the new center in the gallery below: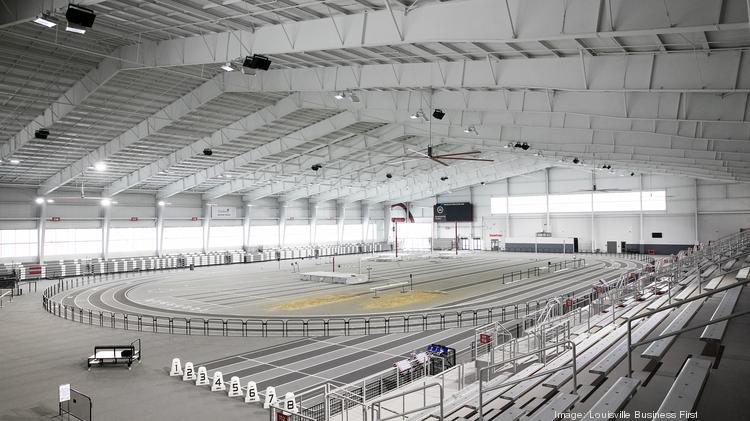 From start to finish, Reynolds remained the public symbol for the development as both its persistent champion and tenacious fundraiser. She secured multimillion-dollar commitments from several major partners, including Louisville Metro Government, Norton Healthcare Inc. and Humana.
Reynolds responds to this by saying she didn't reinvent the wheel or find a cure for cancer. The innovation here, she said, was the fundraising and the vision. Creating a vision and then raising the money is what had not happened in the West End in the past, she said.
But even with this local support, there was still a $10 million financial shortfall.
Nine community financial institutions earlier this year partnered to fill the gap. Republic Bank, Central Bank, Commonwealth Bank, L&N Federal Credit Union, Liberty Bank, Limestone Bank, Stock Yards Bank, WesBanco and Wilson & Muir Bank all contributed between $500,000 and $2 million to complete the facility.
"We had to borrow the last $10 million to finish. While it's important to celebrate success, I think there's still an indictment on our business community in Louisville," Reynolds said.
She estimated about $18,000 in monthly interest payments on the loan.
"That is not the business model I created," she said. "The business model I created would not have that sort of payment being made."
Reynolds and the design team visited multiple sports complexes around the country as a means to gather information for the West Louisville facility. Stops included Birmingham, Alabama; Michigan; and Long Island, New York. Those visits inspired the hydraulic floor and lighting, among other features.
"I'll tell you, nothing came together all at once," Reynolds said. "There were things we were still tweaking and making changes to toward the end. … Traveling allowed us to make some decisions for what we didn't want to do."
Eric Browne, CEO of Cincinnati-based Browne Engineering & Construction, and his firm were heavily involved in the design and construction process.
"We needed the best sports designer we could find. Minority inclusion was important too. Moody Nolan was just the right choice," Browne said. "They were able to solve multiple challenges to make it work."
Jonathan Moody, president and CEO of Moody Nolan Inc., said Reynolds was thoughtful and diligent in outlining the dream for the facility and made sure it was constantly reflected in the design. Moody said they were advised if and when they veered from that vision.
"To be quite frank, our job was easy because the dream was always there, and the vision and the team was always there," Moody said. "Most of it was just aligning everything. … It's always easy when the vision and the dream exists.
"When it's hard is when there's a lack of vision or lack of imagination."
Browne said the site itself brought significant challenges as it was abandoned for a decade or more. They found buried structural steel, foundations, parking lots and sewer mains. And there were limitations on where the building could go.
Browne said they also had to install a special subgrade to support the building and allow for the creation of stable walkways and parking lots.
The construction timeline was lengthened during the pandemic, and some materials were hard to find during that period. Moody said they had to thread the needle by delaying aspects that didn't require immediate attention while still preparing for the spring track season.
The design and construction team all said they are honored and humbled to be part of the development.
"It's one of those projects you write down," Browne said. "It's one we'd just call a lifetime achievement."
John Hinshaw, president of Calhoun Construction, described it as a world-class project that could become iconic for Louisville.
"It's amazing what you can do when the owner pushes the community to get this done," he said.
An economic magnet?
Within its first few weeks of operation, Reynolds said the complex had hosted athletes from numerous states and several countries.
ASM Global, which also manages the KFC Yum Center and Lynn Family Stadium, is looking to attract multiple types of events that is not just limited to track meets and other sports-related activities.
The increase in activity will bring in more people with disposable income that will stay in hotels and eat in local restaurants, Reynolds said. That will then create the potential for more opportunities and future development, be it retail or a hotel near the complex, she added. It should also raise property values and create an outlet to support Black-owned businesses and artists. She noted the pedestrian concourse can host food trucks or pop-up entrepreneur space.
"I think it will be an economic development magnet," she said. "My hope is we will attract people to our city, they'll spend all their disposable income and then go home."
Norton Healthcare CEO Russell Cox has been a vocal supporter of the project, and the company secured the naming rights for the facility. Norton's involvement, he said, has been gratifying because it is serving a vulnerable part of the community while also supporting health and fitness.
"The passion of Sadiqa really stood out," Cox said. "I seek her guidance all the time on how to extend access. She's been very helpful."
The design of the complex was intentional and thoughtful and its purpose can be multipronged, Cox said, serving as an economic development, education and health care tool.
"Any time you are bringing groups of people together and numbers, there are going to be opportunities from an economic standpoint," he said.
"There's not very many banked 200-meter tracks in the U.S. That's just going to open up some great opportunities," Battle said. "We do a really good job with sports in this community. This just opens up another door."
"We are brand new on the scene so we're going to be building some new relationships around the country," Battle said.
---