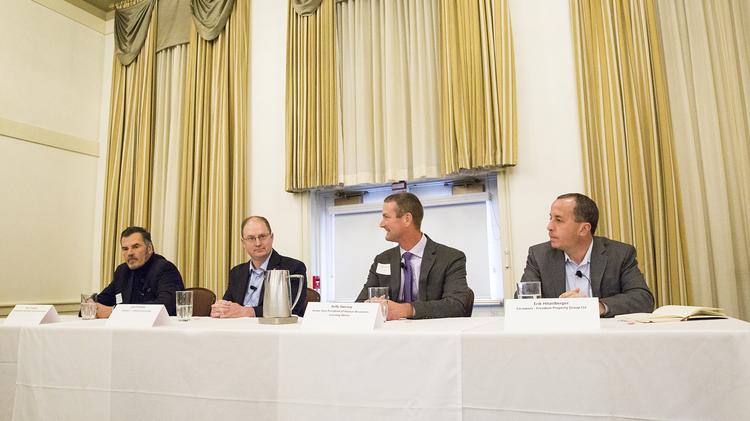 VIEW SLIDESHOW
10 photos





What do two recovering engineers, a former marketing professional and the project manager for the KFC Yum Center have in common? They're founders of some of Louisville's fastest-growing companies.
The four Louisville executives were on a panel Tuesday morning at Louisville Business First's Access Louisville event to talk about the climate and opportunities for growth in Louisville and how they managed to scale their companies so quickly.
The panel consisted of Kevin Grangier, CEO and founder of Belle Nobel Entertainment Group; John Hinshaw, president of Calhoun Construction Services Inc.; Kelly Sweasy, senior vice president of human resources at The Learning House Inc.; and Erik Hitzelberger, co-owner of Freedom Property Group LLC.
Grangier said Louisville residents' hunger for new experiences is a large part of the driving force for his business, which owns Village Anchor and Le Moo, among others, and is about to open a new restaurant concept, Grassa Gramma.
"We're very fortunate to be in a geography where people are open to dining out, for one, but also open to new experiences," Grangier said. "As long as we focus on the overall experience of the customer and evolve that constantly, we will continue to see those customers at our restaurant."
Here are four takeaways from the panel discussion:
Client relationships
Hinshaw said that although construction and restaurants differ in many ways, the focus on client relations translates well to his industry. Construction is a messy business, he said, with a lot of moving pieces between outside contractors and internal employees. But clients still expect their projects to be done well and to be done on time.
"We have to manage the process and stay in close contact with the clients," he said.
Sweasy said The Learning House, which traditionally connected students to online higher education opportunities, has shifted its focus to help drive growth.
He said the company is working more with corporations to help develop the workforce that they need, creating programs such as those offered at The Software Guild, a coding bootcamp in Louisville. By doing that, The Learning House is filling a gap in the ecosystem — creating the kind of people businesses need and want to hire.
Hitzelberger said the key to his growth is client education because he has a new business concept.
Freedom Property Group buys houses, improves them and rents them to tenants. Then the company sells them to investors as a managed asset, allowing people who don't have the time or resources to manage houses the opportunity to get in on the real estate game.
"We try to make it as simple as investing in a stock portfolio," he said. "We try to make it very simple."
FPG employees work with clients to determine how much money they want or need to make from real estate holdings, and then they get to work.
"We say. 'Let's put together a real estate portfolio that will deliver that for you,' " Hitzelberger said. "Educating [potential clients] in that manner, they've been very receptive to coming to work with us."
The company has seen more than 400 percent growth in the last three years, landing it as the fastest growing company in Louisville on Business First's Fast 50 list this year.
Managing growth
"There are some thing that we do really well, but there's just not time to do everything really well," he said. "So, yes, our bottom line slid a little bit as we experienced those growing pains."
Maintaining processes that hold together the bottom line while quickly scaling the top line became a challenge for each of the companies as they grew.
Hinshaw said managing his company's growth efficiently came down to making sure the company had enough employees in its management structure.
Problems in Louisville
Although Louisville has many good sides to it, all four entrepreneurs agreed the city has its issues.
Hinshaw and Hitzelberger both mentioned the opposition to the proposed Topgolf at Oxmoor Center as a problem. Both of their businesses rely on citywide growth.
"From a wish-list standpoint, we want a city that is growing and embracing growth," Hitzelberger said.
Hinshaw said he'd like to see the development process become more streamlined.
"Construction is very closely tied to the overall community growth," he said. "The more vibrant … Louisville can be, the more construction grows, and that's good for us."
'Big, hairy' goals
Each entrepreneur has what one audience member called "big hairy" goals that they hope to hit. And they believe they can do it from Louisville.
Grangier said he hopes to stop creating brands soon and instead develop a reproducible package of restaurants to be sold in other cities.
Sweasey said the goal for The Learning House is to continue developing new talent and to connect corporations to its higher-education clients to create better, more helpful opportunities for students.
Hitzelberger hopes to take a fragmented industry of turnkey rental portfolios and become the standout provider, then to drive some regulation for the industry.
---