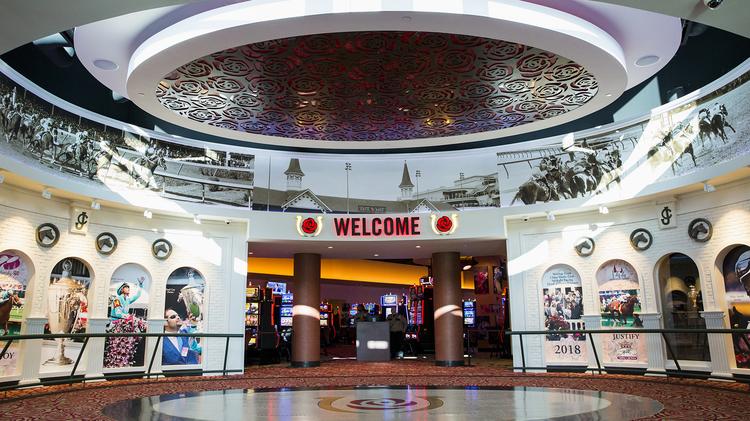 VIEW SLIDESHOW
15 photos





You'll feel the Kentucky Derby vibes emanating from Derby City Gaming as soon as you walk through the door.
We got a tour of the horse racing-inspired historical race wagering facility Thursday, ahead of Friday's grand opening, and you can see it for yourself in the attached slideshow.
For now, gamers can test their luck on more than 800 historical-race-wagering machines. At full capacity, the facility will be home to 900 machines, said Churchill Downs Racetrack President Kevin Flanery.
Ainsworth Game Technology customized the machines for the facility, so they're one-of-a-kind.
Churchill Downs has been working on the 85,000-square-foot facility since December at a cost of $60 million. It will employ 250 full- and part-time workers and is located at Churchill Downs' former Trackside and Sports Spectrum operation at 4520 Poplar Level Road.
Flanery said the racetrack went the extra mile to bring the Derby experience to the facility, from the rose motif on the lobby's ceiling to the Triple Crown winners' names etched into the flooring. The ornate lobby has iconic Oaks and Derby images and the distinctive white brick found at Churchill Downs. The original Jockey Club logo is etched into the wall near a Derby trophy display.
"Every project we do, we try to tell stories in the background," Flanery said.
At first glance, Derby City gaming resembles a casino, but Flanery said there are a few significant differences. For starters, you don't bet against the house at Derby City Gaming. Instead, you bet against a pool of players.
Historical-race-wagering machines, sometimes known as instant racing, base all of their number generation off previously run horse races, meaning it's an extension of pari-mutuel wagering.
So, even if you are playing a game themed around a Wild West gunslinger, pirate or arctic explorer (Derby City has all three), the game's origins are rooted in horse racing, Flanery explained.
The games also vary by style. Some are quick-hit push-button games that are simple to operate, and others allow more experienced gamers to do some handicapping.
"[But] you don't have to be a professional handicapper to come here and have some fun," Flanery said.
To further accommodate guests, Derby City Gaming has a large wraparound bar in the center of the complex that sits below an art installation made to resemble an exploding bourbon barrel — a nod to Churchill Downs' relationship with the bourbon industry.
Across from the bar are two quick-service restaurants: Railbirds, a hot chicken concept, and Lil' Wagners, named in honor of the historic Wagner's Pharmacy next to Churchill Downs. There's also a large dining room that features historic Derby photographs.
Even the restrooms are Derby-themed, with starting gate numbers above urinals and the backside of jockeys and horses imprinted on the stalls.
"That's a kitschy little thing we did," Flanery said with a laugh.
For those who want to balance gaming and live horse racing, races at Churchill Downs and other race tracks across the country will be broadcast on a row of televisions next to a terminal of self-serve betting machines.
Flanery said in December that the money generated from the facility will be reinvested in higher purses to lure more horses and trainers to Louisville.
"A strong Kentucky racing industry means a strong Kentucky," Flanery said at the time.
Derby City Gaming is the newest property of Louisville-based Churchill Downs Inc. (NASDAQ:CHDN). The casino and racing company owns multiple casino and racetrack properties in several states, including its namesake Louisville racetrack, and the Twinspires.com online wagering platform.
---